PAY ATTENTION
As of 1-1-2021, Ziber uses the Stripe payment platform to handle the financial transactions of Ziber Pay. Read more about activating Stripe here.
If you have a financial role for the company for which you are logged in in Ziber Team, you can make the Ziber Pay settings for this company. You do this by clicking on 'Settings' from the main menu under the tile 'Ziber Pay'.
If you are not authorized to make these settings with the account you are logged in with, you will see a message here in which you can see which administrator(s) has the financial role for this company.
Your data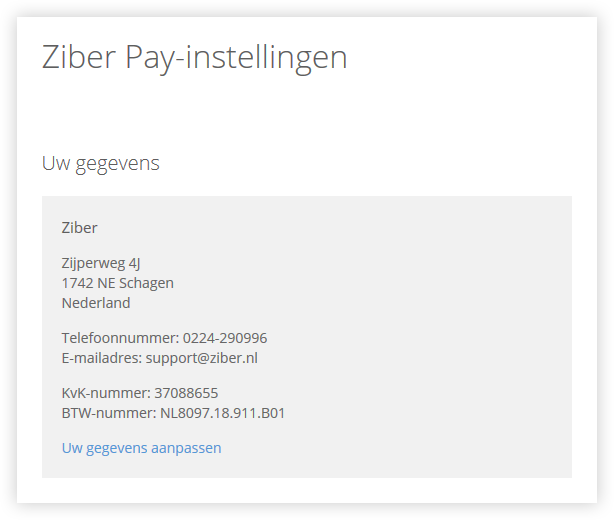 First of all, you get an overview of the company's data. These are the data as entered with the company data. Click on the 'Edit your data' link to edit the data to your liking.
Payments and conditions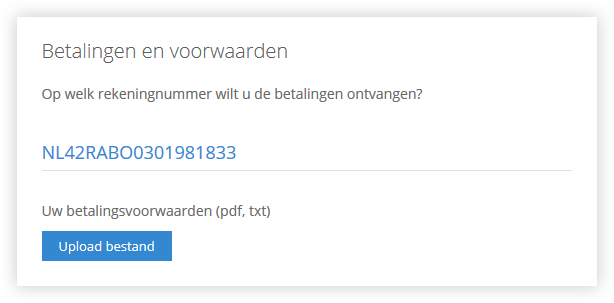 Here you can enter the account number (IBAN) where you want to receive payments via Ziber Pay. We transfer the transactions to this account number every week.
You can also upload your payment terms here via the blue 'Upload file' button (in .PDF or .TXT format). The payment conditions are made visible to a visitor who pays via your payment links.
Sender Email Address

Enter the e-mail address that is used as the sender of all e-mail traffic related to Ziber Pay payments. If you do not enter anything here, e-mails will be sent from noreply@ziber.nl.
NB; if you enter an e-mail address here that you do not have the management of at Ziber, always make an addition to the SPF record of your domain name with your domain name/e-mail provider.
Here you will find the settings you need to make for your domain .
Notification

Enter the email address that will be used to send you an order or payment confirmation. You will then receive emails from noreply@ziber.nl when a payment link is used and when it has been paid.
Ziber Pay service costs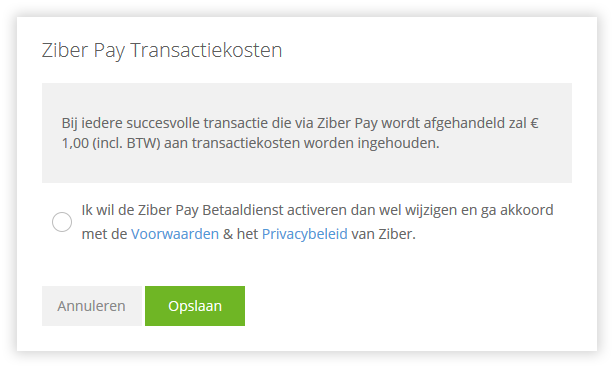 With every transaction that is handled via Ziber Pay, you pay the Ziber Pay service or transaction costs. These amount to 1 euro and are deducted from all payments.
You must then agree to the Ziber Pay conditions by checking the box. Of course you will also find a link here to our Ziber Pay conditions. Click on the green 'Save data' button to save all the settings you have made.
tags: ziber, pay, ideal, transaction, payment link, payment links