When entering an activity (an event), you can also easily sell tickets online and have them paid via Ziber Pay (iDeal). This article explains how that works.
Before you can use this function you will need to activate Ziber Pay once. This article explains how this is done: https://support.ziber.nl/hc/nl/articles/115001037745-Ziber-Pay-financi%C3%ABle-waarden-maken
Add activity
You can use Ziber's ticket or ticket sales on any activity (or event) you entered. From the main menu, click on 'New' under 'Activities' and enter the details of the activity, such as a performance, workshop, event or course.
While entering, you will come across the option to indicate that you want to sell tickets. Check this box to enter your sales options.

Then click on the green button to enter a 'sell option'.

Then you can enter your first sell option. This is probably an 'Entrance ticket' to the event.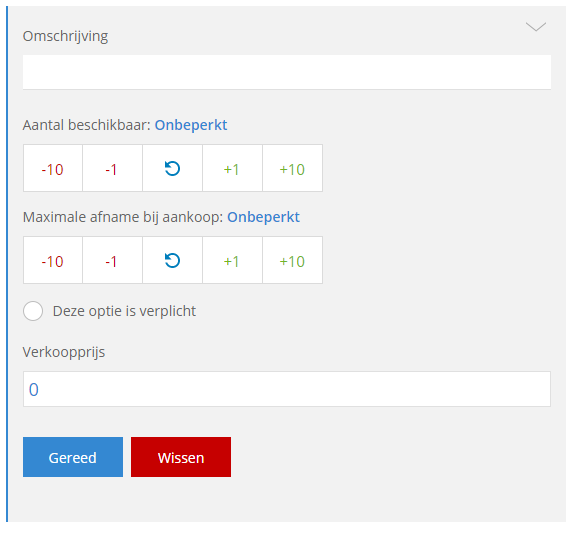 Helpful when entering:
When filling out you can indicate how many cards you have available (this stock is also kept up to date during the sale, so that no more than this number can be sold)
You can enter a maximum number that people are allowed to order per order.
You can make this sales option 'mandatory', so that people always have to purchase at least 1 piece with an order.
You can enter the sales price and then you will be given the VAT choice, so that this is properly maintained in the administration and confirmations to the customer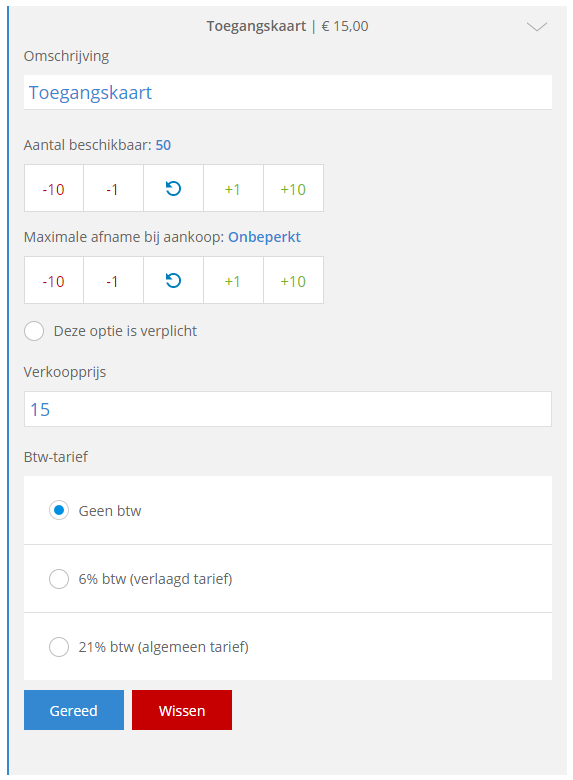 When you have finished entering the first sale option, click on the blue 'done' button. The sell option collapses.

Via the green button 'Create new option' you can then add another sales option, for example a deposit or a bottle of wine , or a special VIP treatment . In short, you can sell multiple items at an event!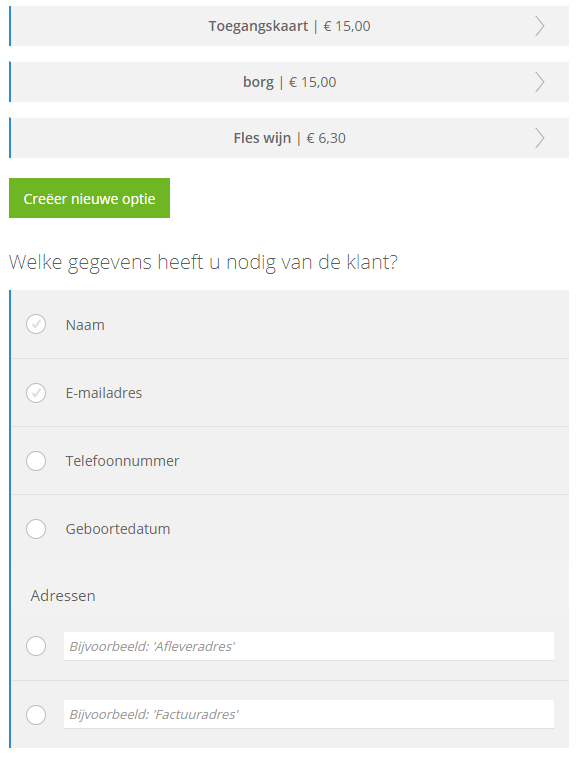 If you have entered all sales options, you will be asked what information you need from the customer. At least required are Name and E-mail address . But you can also ask for telephone number and date of birth. Finally, you can also request up to 2 addresses from your customer. You can label the addresses yourself, such as 'delivery address'.
Tip: The less you ask the customer, the easier it works for him/her!
Finally, click on the green 'Save' button at the bottom to save the sales options.

You can now find ticket sales on your website at the event in your activity calendar (both on desktop and mobile).
Tip: You can now easily inform all your customers about this event by sending it via the Newsletter app. View this explanation about how that works: https://support.ziber.nl/hc/nl/articles/213961849-Een-nieuwe-nieuwsbrief-maken-en-verzend