When you start SenseView for the first time, the SenseView Wizard appears. You can quickly and easily create your first timeline using the Wizard.
Create a new SenseView from the Ziber Cloud.
Open the SenseView designer.
The Wizard starts.
Enter the name of your timeline. You can come up with this yourself.
Select the font you want to use. These are all Google web fonts.
Select what information you want to show in the ticker: NOW, NOS, Tweakers or no ticker.
Choose three (house style) colors that you want to use as a basis for the design
Click on the button 'Create your SenseView timeline'
After you have created the timeline via the Wizard, one news element is automatically added and selected.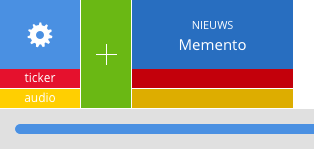 Click on the + button to add elements
You can choose from multiple templates for different content. This makes the timeline interesting and varied in design. For the news you can choose from 4 different templates. In addition, there are templates for showing photo albums, agenda items, Twitter messages, homes, the weather and sports results. The choice of templates depends on the subscription. Can't find the desired template in the overview? Please contact Ziber.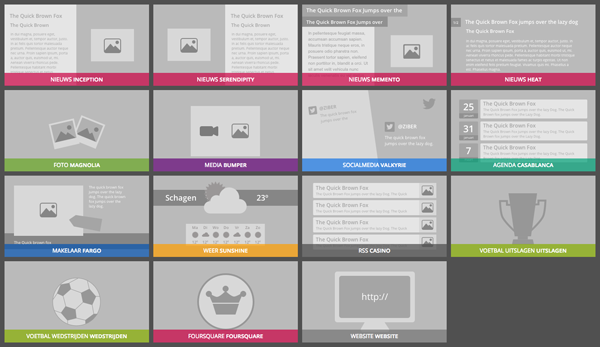 Click on the + button for the template overview.
Move the mouse over a template until the + button appears.
Click on the + button.
The template is added to the end of your timeline and selected immediately.
Change the settings to match the corporate identity.