When you go to 'Newsletters' from the main menu of Ziber Team, you will arrive at the screen where you can find all sent and unsent newsletters. At the top you can click on the green button 'New newsletter'. When you do that, you will create a new newsletter. View our explanation about creating a newsletter here .
Below you will see all newsletters. With every newsletter you have a number of options: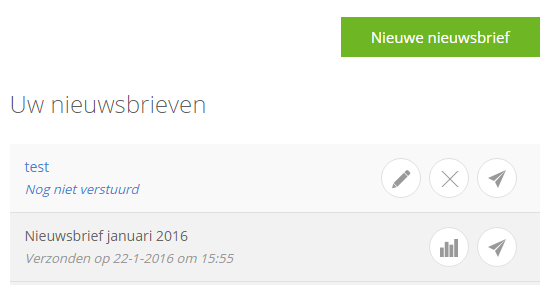 Edit newsletter
With the edit icon (the pencil) you can adjust a newsletter that has not yet been sent to your liking and possibly send it immediately.
Delete newsletter
If you choose to delete a newsletter, you will permanently delete the newsletter. You can only delete newsletters that have not yet been sent. You do this by means of the cross.
Send newsletter
Click on the send icon (the paper airplane) to start sending the newsletter. You will then see a follow-up screen where you can select the groups and send the newsletter definitively.
It is also possible to click on the send icon for a newsletter that has already been sent. Select the groups to which you want to send the newsletter (again) and only the addresses that have not received the newsletter before will receive your newsletter.
Viewing statistics from a newsletter
Click on the statistics icon (the graph icon) to view the statistics of your newsletter. You can see when the newsletter has been sent and to which addresses the newsletter has been sent.