OneDrive for Business is part of the Mobile Office mailbox. OneDrive provides a location in the cloud where you can store, share, and sync your work files. OneDrive for Business lets you update and share your files from any device. You can also work on Office documents simultaneously with others.
Working with OneDrive for Business
When you use our Mobile Office mailbox, you have 1 TB of online storage via OneDrive for Business. To get started, log in at https://portal.office.com . There you log in with your Office 365 account (the e-mail address (and password) of your Mobile Office mailbox). Then click on the 'OneDrive' tile. This will take you to the folder where you can save your files. You can move your files, which are stored locally on the computer, to this online Cloud location.
You can also view and edit the online files on all your mobile devices. OneDrive apps are available for all mobile platforms (Android, iOS and Windows Phone).
Sync OneDrive for Business with your computer
When you are logged in to your OneDrive, you have the option to 'sync' folders and files you have posted online with your computer. To do this, click on the 'Sync' button:

You will then receive a OneDrive for Business location in the explorer on your PC or Mac. All the files you save here are automatically saved online in your OneDrive: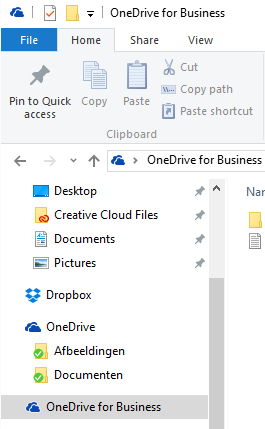 Also check out Microsoft's support pages about OneDrive for Business:
https://support.office.com/nl-nl/article/What-is-OneDrive-for-Business-187f90af-056f-47c0-9656-cc0ddca7fdc2