When you use a Sitehand, Ziber Education website or Sitecup, your website has access to the 'sidebar'. Here the visitor to your website is given the opportunity to navigate to, for example, news items, social media, vacancies and products. Your company, association or school details are also shown at the bottom of the sidebar. You can decide for yourself which data is shown here - and whether it is shown at all.
Show company details
From the main Ziber Team menu, go to 'My Sitehand' (Ziber Education, Sitecup). You will see a menu appear, where the first item is 'Show company details'. Click on this to determine which company data you want to show. You will see an eye behind each item (Company Name, Address, etc). When it is green, this item is visible on the site. When you click on the eye, it turns gray. This means that this item is invisible.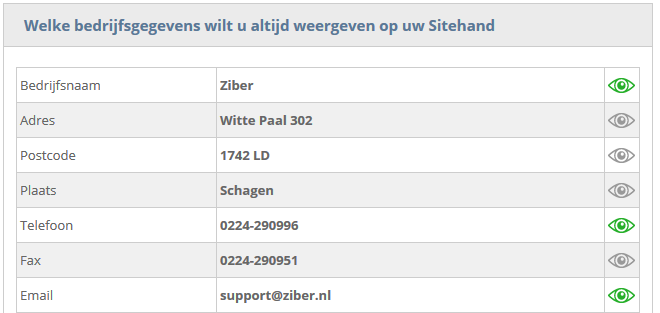 Change company details?
Are your company details incorrect? You can change this by going from the main menu of Ziber Team to the heading 'company data'.
Also view our online explanation about this .
tags: company data, display, sidebar, aside, contact details, contact