Click on your name at the top left of Kwieb to go to your profile. You will then see all the children you are linked to. Press on one of the linked children and click on "edit profile" to enter the profile of the child.
Name and groups
Your child's details in the Kwieb app have been entered by the educational institution. They manage this data. Through the child profile you can see your child's name, the group(s) your child is in, the associated school team members of those groups. If something is not correct, it is best to contact the educational institution, so that they can adjust their administration. This change will then also be visible in Kwieb.
Adjust photo
All children who are active in Kwieb are assigned a sample image from Kiweb. Via the camera next to the monster you can overwrite this monster image with your own photo of your child, or an image you like.
When you later delete the photo you added, the original sample will be used again. You can always add another photo if you want.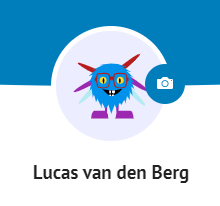 Tip: Do you want to set which information from your profile (or your child) is shared with other parents in Kwieb? View the extensive privacy settings