http://gnap.ziber.nl SenseView is based on the latest online techniques based on the Google Chrome platform. You can therefore also play your SenseView in a Google Chrome browser, via the internet address that you have received from Ziber! This can be very useful, so that you can play the SenseView on any computer!
If you use your SenseView within your organization and you do not want the SenseView to be viewed by outsiders, you will need to enable the security. This article explains how that works.
Requirements: SenseView v3.0 or higher
When your SenseView starts up, you will first see a screen in which a large SenseView appears with the version number. To use the security, this will have to be at least 3.0. If this is not the case, you can email us at support@ziber.nl, so that we can upgrade this for you.
Three layers of security
1. SSL
SenseView is secured with SSL, which means that all SenseView data is encrypted over the internet. If SenseView is accessed via a URL without SSL (https://) a message will appear that the SenseView does not work, because there is no SSL security. By default, this protection is enabled for all SenseViews.
2. IP Whitelisting
You can indicate in Ziber Team that only specific IP addresses are allowed to view the SenseView. With this you can, for example, set that only the IP address of the organization may view the SenseView.
You can set this by logging in to your Ziber Team ( http://gnap.ziber.nl ) then going to "My SenseView" and then on the "Overview" tab, ticking "Use IP-Whitelist" and add the IP addresses there.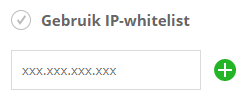 3. TOKEN Security
Each SenseView has a unique TOKEN (key code). By turning on the TOKEN security, Senseview will only play when that TOKEN is present.
To activate this you can enable "Secure my SenseView". Your security token will immediately appear on the screen.

To test?
To test the security, you can enter the address of your own SenseView in a Chrome Browser. Depending on your settings, you will see that the TOKEN is missing or the IP address is incorrect. Then you know that the security is working. When you click from Ziber Team at "My SenseView" and then on "View your SenseView" the TOKEN is sent along in the call (if you use the security TOKEN) the Senseview will then just play.

Need help?
The heaviest protection is the combination of 2 & 3 (1 is standard). If you need help setting up these security options, you can email us at support@ziber.nl .