In the Kwieb app you can set which data from your profile you share with other parents at school.
Photo, Name and relationship to your child
In the Kwieb parent app you have the option to " completely shield " your name as a parent. This makes you anonymous to other parents and certain functions do not work either .
Share phone, email and address with other parents
If you have chosen to share your name with other parents in Kwieb, you will have additional options to also share contact details with parents, so that they can find you and contact you.
Note: Your phone number (if entered), your email address and your address (if entered) are shared with the school by default.
Optionally, you can share parts of your profile with more people yourself;
parents of group(s) of my child(ren)
all parents from school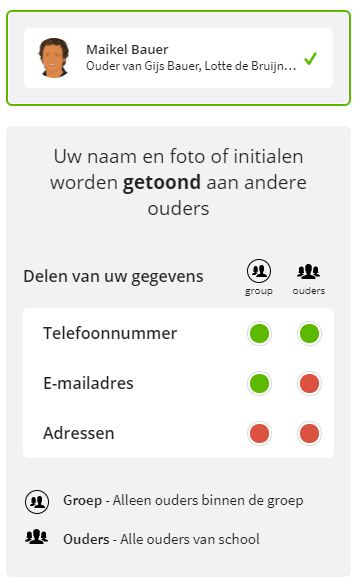 By default, all dots are red, so no additional contact details from your profile are shared with other parents in Kwieb. You can change this here for each type of data.
Tip: View our privacy policy about how carefully we handle your data https://edu.ziber.nl/voorwaarden