You have two ways to keep the basic information from Parnassys in sync with the Ziber platform. This can be done manually or via an automatic link.
Manually
You can export the master data to EDEXML from Parnassys . You can then import this EDEXML file into Ziber Team, so that all students in Ziber Education will be known. Whenever something substantial changes in Parnassys, you will have to export and import this EDEXML again, so that the changes in Ziber Education are correct. Examples of changes are; a new student, student to another group, new teacher, etc.
Automatically
Would you rather have an automatic link with Parnassys? Which can! Ziber has created a link in collaboration with Topicus (the company behind Parnassys), so that this process can synchronize automatically. Safer and easier, because no files are downloaded and it is only a push of a button.
Step 1 - Extend subscription with data link
At the bottom of this article you will find an extension form to purchase the data link with Parnassys as an extension to your Ziber Education subscription. When you complete the form and return it signed and mail it to support@ziber.nl , you have taken the first step and we will activate the link on our side.
Tip: Do not forget to fill in the second page of the order form "STATEMENT EDUCATION INSTITUTIONS DISCLOSURE DATA VIA PARNASSYS"!
Step 2 - Activate Link in Parnassys
Then you can activate the link on your side in Parnassys, it works like this:
In Parnassys click on 'Manage' and then choose 'Links'

if you don't see this button, you may not be able to access that feature.

then activate the "Ziber Education" link.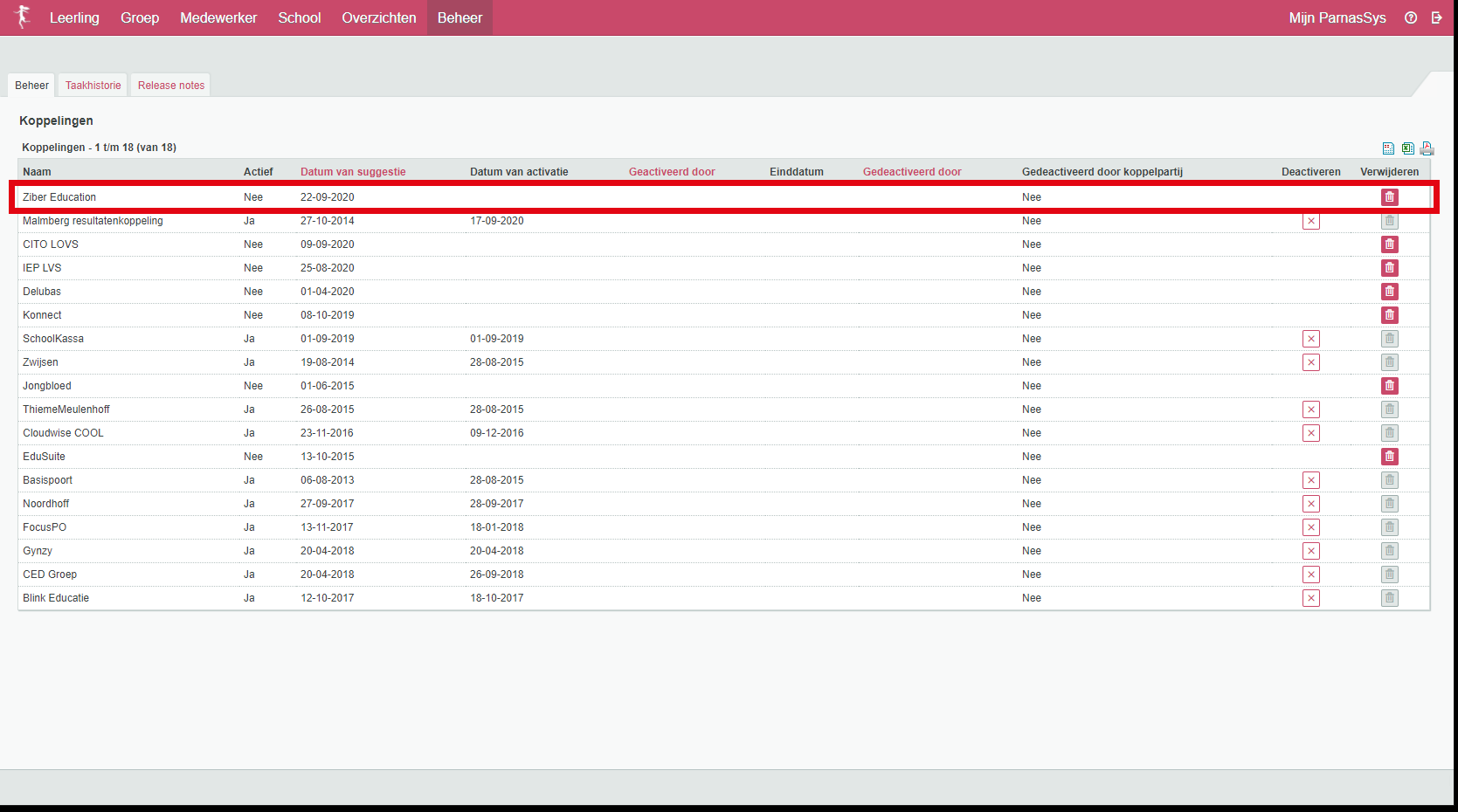 Step 3 - Use the data link
Once the link is activated on both sides, you can start using the data link from within Ziber Team. When you have the administration and/or management role, a Synchronization button will appear on the Ziber dashboard, with which you can perform the synchronization.
What data is transferred? The Processor Agreement describes which data is offered to Ziber from Parnassys. It is the minimum information required to be able to work with the Ziber platform. Think of names of students, date of birth, group classification, school team names, group classification.
htl