Kwieb is a parent app especially for the school community. Parents use Kwieb for information and interaction between school/school team about their child. At the same time, Kwieb is also used for social interaction between parents who have their child at the same school. Think of registration lists or comments under group messages. Many parents also use the Kwieb app to get in touch with other parents.
For example, it is possible to find the parents of other children via your child's group. Often parents know the names of other children in the group, but not the name of the parents. That's why the parent names also say "parent of [name of child]".
Hide child's name
There are situations conceivable in which you as a parent would rather not have your child's name known/visible in the Kwieb app for other parents. In that case, you can protect your child's name yourself.
In Kwieb, press your name at the top left, then press the child whose privacy settings you want to change and then press the Privacy button:

Then all your child's privacy settings will appear. There you can indicate how you want your child's name to be shown to parents at school in the Kwieb app: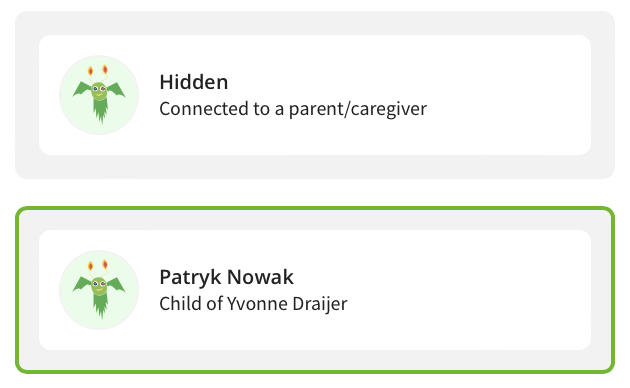 When you choose "Hidden", your child's name is anonymous from that moment on in the Kwieb app for other parents. You can change this at any time.
Tip: When your child is shown as Hidden in Kwieb, other parents will no longer see a connection between you and your child. Your name will then read "Parent of a Foreclosed".
Tip: When the school uses a birthday calendar on the school TV, a child who is hidden will not be visible on it.
Note: Suppose you specify that your child may be shown by name in Kwieb and your partner has set your child to be shown as "Hidden" in Kwieb, your child will be shown as "Hidden". You will have to coordinate this with your partner.
Note: Blocking your child's name only has an effect on other parents in Kwieb. School can of course see your child's name.